TSA Whole Body Scanners
---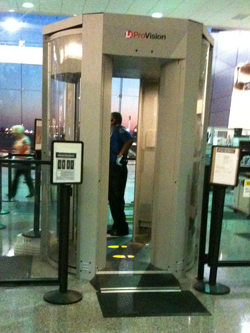 No American should be forced to undergo a virtual strip search or subjected to such excessive groping of the body as a matter of course in reporting to work or boarding an airplane when there is no suspicion of wrongdoing.
The Rutherford Institute has filed a lawsuit against the Transportation Security Administration (TSA) over its unregulated use of whole body scanners, which have been likened to virtual strip searches, in the nation's airports. Insisting that Americans do not shed their privacy rights when entering an airport or boarding a plane, The Rutherford Institute has also filed Fourth Amendment lawsuits in federal court on behalf of airline pilots and passengers who were subjected to invasive body searches by TSA agents under the agency's enhanced screening and pat-down procedures.
In an attempt to secure American air travel, the Transportation Security Administration (TSA) implemented an intrusive policy of scanning travelers with Whole Body Imaging (WBI) devices which allows them to observe an image of passengers' nude bodies to search for restricted items. If a traveler chooses to opt-out of this security measure, he or she can be subjected to an invasive pat-down.
Consider the following stories: Adrienne Durso, a breast cancer survivor who had undergone a mastectomy, was repeatedly groped by TSA agents in the area where her surgery had occurred. Chris Daniels was repeatedly groped in his genitals by TSA agents after a scan showed an abnormality in his groin area that was a result of a childhood injury. After refusing to undergo further humiliation and instead choosing to not board his plane, TSA agents refused his decision to leave and demanded he stay and complete the security procedure. The inhumane treatment of these innocent travelers is indicative of a wider trend of security gone overboard in American airports.
The Rutherford Institute came to the defense of Durso, Daniels, and another client, a 12-year-old girl who was separated from her guardians by TSA agents and forced to undergo a full-body scan. Unfortunately, the case Durso v. Napolitano was dismissed by the U.S. District Court. Judge Henry H. Kennedy, Jr. cited a secret order by the TSA placing all matters of TSA security in the jurisdiction of the D.C. Court of Appeals. Despite the government's attempts to thwart challenges to their draconian security policies, The Rutherford Institute continues to fight on behalf of American travelers.
The Rutherford Institute also came to the defense of Aaron Tobey, a protestor who was wrongfully detained by the TSA after he asserted his constitutional rights in Richmond International Airport (RIC). On December 30, 2010, Tobey, an architecture student at the University of Cincinnati, was waiting in line to pass through security at RIC. He removed his shirt, displaying text written on his chest that read, "The right of the people to be secure... against unreasonable searches and seizures, shall not be violated," a portion of the Fourth Amendment which bars the government from searching a person without a reasonable justification. Tobey successfully passed through screening, but was handcuffed and detained. He was charged with disorderly conduct, though those charges were eventually dropped.

Case History

September 28, 2016 • Challenging the TSA's Screening Protocols as Ineffective, Invasive, Unlawful and Unhealthy, Rutherford Institute Asks Court to Prohibit Virtual Strip Searches
May 3, 2016 • Declaring TSA Passenger Screening & Whole Body Scanners to Be Ineffective & Unlawful, Rutherford Institute & CEI Mount Renewed Legal Challenge
July 16, 2015 • Rutherford Institute Sues Transportation Security Administration Over Virtual Strip Searches, Unregulated Use of Whole Body Imagers at Airports
January 03, 2012 • Rutherford Institute Appeals Dismissal of Airline Passenger, Pilot Lawsuit Against DHS & TSA Over Scanners, Virtual Strip Searches & Full-Body 'Rub-Downs'
November 7, 2011 • Commentary: Cancer-Causing Airport Scanners? Enough Is Enough
October 24, 2011 • Citing Abusive Behavior by TSA Agents, Rutherford Institute Calls on TSA to Ensure that Agents Are Trained to Deal with Disabled Airline Passengers
October 11, 2011 • Rutherford Institute Appeals Airline Passenger, Pilot Lawsuit Against DHS & TSA Over Scanners, Virtual Strip Searches & Full-Body 'Rub-Downs'
August 30, 2011 • District Court Agrees to Keep Aaron Tobey TSA Protest Case Alive, Rejects Government's Motion to Dismiss Airport Stripper Lawsuit
July 08, 2011 • Citing Secret Order, Federal Court Dismisses Airline Passenger Lawsuit Against DHS & TSA Over Scanners, Virtual Strip Searches & Full-Body 'Rub-Downs'
July 06, 2011 • TSA Alert: Rutherford Institute Defends Female Protester Arrested for Attempting to Pass Through Airport Security Scanner in Underwear
July 05, 2011 • Commentary: VIPR Searches and the American Citizen: 'Dominate. Intimidate. Control.'
March 10, 2011 • Rutherford Institute Files Free Speech Lawsuit Over Student Arrested for Removing Shirt, Displaying 4th Amendment in Protest of Airport Scanners
January 27, 2011 • VICTORY: Failing to Support Security Threat Claim, TSA Dismisses Case Against Muslim-American Pilot After Rutherford Institute Intervenes
December 5, 2010 • Insisting on Right to Privacy, TRI Defends Airline Passengers, Sues DHS & TSA over Scanners, Virtual Strip Searches & Full-Body 'Rub-Downs'
November 22, 2010 • Commentary: Are Body Scanners Dangerous to Your Health?
November 16, 2010 • The Rutherford Institute Defends Airline Pilots, Sues Dept. of Homeland Security & TSA Over Scanners, Virtual Strip Searches & Full-Body 'Rub-Downs'
October 21, 2010 • The Rutherford Institute Agrees to Represent Michael Roberts, Airline Pilot Who Refused to Submit to Virtual Strip Search