Resources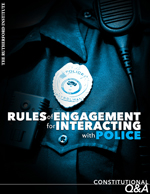 Constitutional Q&A
In an effort to aid better understanding of our constitutional rights, The Rutherford Institute has issued Constitutional Q&A. Available online or in a downloadable PDF format, this series carefully considers pressing constitutional concerns, rights and solutions under a vast array of topical subjects. Click here to visit The Rutherford Institute's Constitutional Q&A library.
Constitutional Corner
The Constitution of the United States represents the classic solution to one of humankind's greatest political problems—that is, how does a small group of states combine into a strong union without the states losing their individual powers and surrendering their control over local affairs? Click here to visit The Rutherford Institute's Contitutional Corner to learn more.
Frequently Asked Questions
Click here to read a some of the most common questions fielded by attorneys at The Rutherford Institute.
Freedom Resource Bank
The Rutherford Institute's Freedom Resource Brief Bank provides easy-to-read briefs and pamphlets with valuable information on your rights and freedoms. Briefs and pamphlets are viewable in PDF format and can be easily printed out. Click here to access.
Citizen's Toolbox
More Resources