Andrea Hernandez
---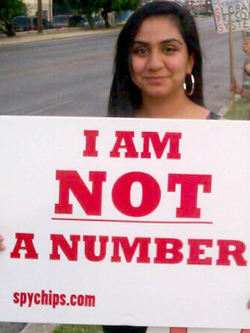 High school sophomore Andrea Hernandez expressed her objections to being forced to participate in a RFID program, but was told by school officials that "there will be consequences for refusal to wear an ID card."
The Rutherford Institute came to the defense of a San Antonio high school student who was told that she must wear a name badge containing a Radio Frequency Identification (RFID) chip as part of her school district's new "Student Locator Project."
So small that they are barely detectable to the human eye, RFID tags produce a radio signal by which the wearer's precise movements can be constantly monitored, raising serious privacy concerns. For Andrea Hernandez, a sophomore at Jay High School, the badges posed a significant religious freedom concern.
The Northside Independent School District in San Antonio, Texas, launched the "Student Locator Project" ostensibly in order to increase public funding for the district by increasing student attendance rates. As part of the pilot program, roughly 4,200 students at Jay High School and Jones Middle School were required to carry Smart ID cards embedded with an RFID tracking chip. Hernandez, a Christian, expressed her sincere religious objections to being forced to participate in the RFID program, but was told by school officials that "there will be consequences for refusal to wear an ID card." In response to her public objections, school officials offered to quietly remove the tracking chip from Andrea's card if the sophomore would agree to wear the new ID without the imbedded RFID chip so as to give the appearance of participation in the Student Locator Project. Hernandez refused the offer.
In coming to Hernandez's defense, Rutherford attorneys filed a petition for a temporary restraining order and immediate injunctive and declaratory relief alleging that the school's actions violate Andrea's rights under Texas' Religious Freedom Act and the First and Fourteenth Amendments to the United States Constitution. After a drawn-out battle waged in court and within the community, school officials with the Northside Independent School District announced their decision to stop using the tracking program. According to school officials, the decision to cease the "Student Locator Project" was due in part to low participation rates, negative publicity, and a lawsuit by The Rutherford Institute.
Case History
08/22/2013 • Victory Update: San Antonio Officials Re-Admit Expelled High School Student Andrea Hernandez to Magnet School After Ending RFID Tracking Program
07/16/2013 • Victory: San Antonio Public School Officials End RFID Tracking Program, Citing Civil Liberties Lawsuit, Negative Publicity, Low Participation Rates
01/18/2013 • School Officials Reject Request for Accommodation, Kick Andrea Hernandez Out of Magnet School Over Religious Objections to RFID Tracking Program
01/18/2013 • Andrea Hernandez Stands Firm, Asks School Officials to Respect Her Religious Objections to RFID Tracking Program, Let Her Use Old Badge & Stay in School
01/17/2013 • Fifth Circuit Court of Appeals Denies Injunction Prohibiting Texas School Officials from Expelling Student Over Objections to RFID Tracking Badge
01/11/2013 • Rutherford Institute Asks Fifth Circuit for Injunction Prohibiting School Officials from Expelling Student Over Objections to RFID Tracking Badge
01/10/2013 • Rutherford Institute Files Appeal Challenging Federal Court's Ruling in the Case of a Texas Student Expelled Over Objections to RFID Tracking Badge
01/08/2013 • Dismissing Religious Belief Concerns, Federal Court Rules in Favor of Texas School's Expulsion of Andrea Hernandez Over Objections to RFID Tracking Badge
01/03/2013 • Rutherford Institute Calls on Court to Reject Texas School's Motion to Dismiss Case of Texas Student Expelled for Refusing to Wear an RFID Tracking Badge
12/14/2012 • Federal Court to Hear Case of Texas High School Student Expelled for Refusing to Wear RFID Tracking Badge Due to Religious Objections, Privacy Concern
11/30/2012 • Rutherford Institute Asks Federal Court to Prohibit Texas School from Expelling Student with Religious Objections to RFID Tracking Badge
11/27/2012 • Sidestepping State Court Hearing, School Officials File for Removal to Federal Court in Case of High Schooler Forced to Wear "Smart ID" Tracking Badge
11/27/2012 • Texas Court to Hear Arguments for Preliminary Injunction Against High School in Case of Student Forced to Wear "Smart ID" Tracking Badge
11/21/2012 • Victory: Court Grants Rutherford Institute Request to Stop Texas School from Kicking Student Out for Refusing to Wear "Smart ID" Tracking Badge
11/20/2012 • Texas School Kicks Student Out of Magnet Program for Refusing to Wear "Smart ID" Tracking Badge—Rutherford Institute to Seek Prelim. Injunction
11/14/2012 • Rutherford Institute Warns Texas School Officials Not to Force Students to Wear RFID Tracking Devices, Despite Parental Concerns & Religious Rights