Become a Supporting Member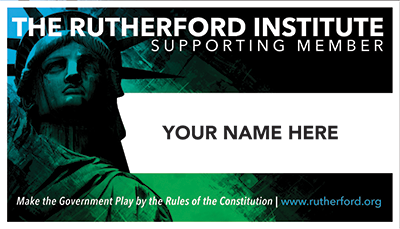 It's our job to make the government play by the rules of the Constitution, and it's a job we take very seriously.
There are 319 million of us in this country.
Imagine what we could accomplish if we actually worked together, presented a united front, and spoke with one voice.
Tyranny wouldn't stand a chance.
That's why I'm hoping you'll take a moment right now to sign on as a card-carrying member of The Rutherford Institute. By becoming a Supporting Member, you'll be showing the rest of America what it means to be a 'card-carrying member' of The Rutherford Institute. It means that you're taking a stand, and you're not willing to give up your freedoms without a fight.
Your supporting membership makes it possible for The Rutherford Institute to:
sound the alarm over government abuses
push back against the government's power grabs
defend Americans whose rights have been violated
hold the government accountable to abiding by the rule of law, the U.S. Constitution
and educate Americans about what they can do to rein in their runaway government, reclaim their freedoms, and restore justice in America.
You'll also receive a host of benefits, ranging from new publications to news alerts and other valuable Rutherford Institute resources and bulletins. Most of all, you'll have the satisfaction of knowing that your donations are helping us advance the cause of freedom.
Giving Levels
Platinum Council Member ($1000+)
Gold Council Member ($500-999)
Silver Council Member ($250-499)
Council Member ($100-249)
Advocate Member ($75-99)
Society Member ($50-74)
Member ($25-49)
Thanks for standing with us on the front lines of the fight for freedom!
* A Supporting Member is not a "member" within the meaning of the Virginia Nonstock Corporation Act