Michael Salman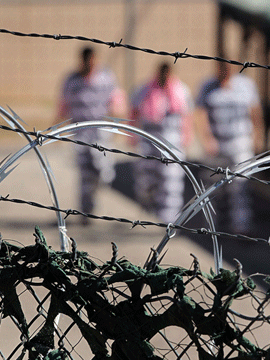 Michael Salman, a pastor in Arizona, was sentenced to 60 days in jail for hosting Bible studies on his private property for his family and friends. The trail of events which led him to this point demonstrate the lengths to which an overblown government bureaucracy will go to squash civil liberties in favor of enforcing dubious regulations.
Seven years ago, Michael Salman and his wife Suzanne began hosting Bible studies in their home for family and friends. In order to accommodate the 20 or so people who regularly attended these studies, the Salmans erected a 2,000-square-foot building in their backyard. Family and friends, after parking their cars on the Salmans' 1.5 acre property, would join together in private to exercise their religious freedom, singing hymns and saying prayers.
Unfortunately, upon receiving a neighbor's complaint, city officials became involved. They ordered the Salmans to stop holding the Bible studies in their home, insisting that they were in violation of the zoning ordinance and construction code. The Salmans received a number of letters from the City of Phoenix demonstrating the callous indifference to their property and religious rights. But the city's harassment of the Salmans did not stop with the letters.
In June 2009, nearly a dozen police officers, accompanied by city inspectors, raided the Salmans' property, searching for zoning violations. Having determined that Salman's weekly Bible studies constituted a church, city officials subsequently charged Salman with being in violation of various code regulations that apply to commercial and public buildings, including having no emergency exit signs over the doors, no handicap parking spaces and no handicap ramps. Salman was later found guilty of 67 code violations.
Upon being found guilty, Salman was placed in Tent City Jail. Prisoners at Maricopa County's Tent City Jail sit under military tents, attempting to keep cool using the blast of a few large fans. With four Sky Watch Towers for security, stun fences around the perimeter, facial recognition computer software for inmate identification, and K-9 units and patrol deputies for additional security, prisoners in Tent City are subjected to the brutality of the Arizona sun and jail officials intent on making their stay as miserable and demeaning as possible.
The many issues at play in this case, the right to use one's private property as he sees fit, and to exercise his religion freely, are of great interest to society as a whole, and critical to preserving the freedoms which this country was founded upon. This is why The Rutherford Institute took up the case. In coming to the defense of Michael Salman, Rutherford Institute attorneys challenged the legality of Salman's imprisonment as a violation of his First Amendment right to religious freedom and assembly, in addition to challenging the City's assertion that if a person holds Bible studies or other forms of religious worship at his residence, he is required to comply with all local laws relating to an actual church that is open to the public.
---
Legal Action
The Rutherford Institute's fact sheet on the Salman case
The Rutherford Institutes petition for a writ of habeas corpus from the Arizona Supreme Court