John Whitehead's Commentary
Anarchy in America: We're Being Gunned Down Like Dogs in the Street [SHORT]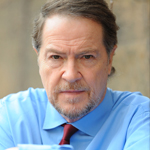 Things are falling apart.
How much longer we can sustain the fiction that we live in a constitutional republic, I cannot say, but anarchy is being loosed upon the nation.
We are witnessing the unraveling of the American dream one injustice at a time.
Day after day, the government's crimes against the citizenry grow more egregious, more treacherous and more tragic. And day after day, the American people wake up a little more to the grim realization that they have become captives in a prison of their own making.
No longer a free people, we are now pushed and prodded and watched over by twitchy, hyper-sensitive, easily-spooked armed guards who care little for the rights, humanity or well-being of those in their care.
The death toll is mounting. The carnage is heartbreaking. The public's faith in the government to do its job—which is to protect our freedoms—is deteriorating.
With alarming regularity, unarmed men, women, children and even pets are being gunned down by the government's standing army of militarized police who shoot first and ask questions later, and all the government does is shrug and promise to do better.
Things are not getting better.
Americans are being gunned down by police like dogs in the street.
Dogs aren't faring much better.
Consider that a dog is shot by a police officer "every 98 minutes."
The Department of Justice estimates that at least 25 dogs are killed by police every day. 
It doesn't take much for a cop to shoot a dog. Dogs shot and killed by police have been "guilty" of nothing more menacing than wagging their tails, barking in greeting, or merely being in their own yard.
According to the Sixth Circuit Court of Appeals, all it takes for dogs to pose a sufficient threat to police to justify them opening fire is for the dog to move or bark.
Let's put this in perspective, shall we?
We're being asked to believe that a police officer, fully armed, trained in combat and equipped to deal with the worst case scenario when it comes to violence, is so threatened by a yipping purse dog weighing less than 10 pounds that the only recourse is to shoot the dog.
Compounding the tragedy, if a cop kills your dog, there will be little to no consequences for that officer. Not even a slap on the wrist.
In this, as in so many instances of official misconduct by government officials, the courts have ruled that the cops have qualified immunity, a legal doctrine that incentivizes government officials to engage in lawless behavior without fear of repercussions.
Whether you're talking about police shooting dogs or citizens, the mindset is the same: a rush to violence, abuse of power, fear for officer safety, poor training in how to de-escalate a situation, and general carelessness.
This is the same mindset that sees nothing wrong with American citizens being subjected to roadside strip searches, forcible blood draws, invasive surveillance, secret government experiments, and other morally reprehensible tactics.
Unfortunately, this is the fallout from teaching police to assume the worst-case scenario and react with fear to anything that poses the slightest threat (imagined or real). This is what comes from teaching police to view themselves as soldiers on a battlefield and those they're supposed to serve as enemy combatants. This is the end result of a lopsided criminal justice system that fails to hold the government and its agents accountable for misconduct.
It's a tug-of-war between the constitutional republic America's founders intended and the police state we are fast becoming.
So how do we fix what's broken, stop the senseless shootings and bring about lasting reform?
For starters, require that police officers be trained in non-lethal tactics. If police officers are taking classes in how to shoot, maim and kill, shouldn't they also be trained in non-lethal force, crisis intervention training on how to deal with the mentally ill, de-escalation techniques to use the lowest level of force possible when responding to a threat, and how to respect their fellow citizens' constitutional rights?
Second, level the playing field. Police lives are no more valuable than any other citizen's. While police are entitled to every protection afforded under the law, the same as any other citizen, should not be shielded from accountability for misconduct by the courts and the legislatures.
Third, stop making taxpayers pay for police abuses. Some communities are trying to require police to carry their own professional liability insurance. The logic is that if police had to pay out of pocket for their own wrongdoing, they might be more cautious and less inclined to shoot first and ask questions later.
Finally, we need to do a better job of protecting our four-legged friends. Many states are adopting laws to make canine training mandatory for police officers. As dog behavior counselor Brian Kilcommons noted, police "need to realize they're there to neutralize, not control… If they have enough money to militarize the police with Humvees, they have enough money to train them not to kill family members. And pets are considered family."
The Rutherford Institute is working on a program aimed at training police to deescalate their interactions with dogs rather than resorting to lethal force, while providing pet owners with legal resources to better protect the four-legged members of their household.
Yet as I make clear in Battlefield America: The War on the American People and in its fictional counterpart The Erik Blair Diaries, we will continue to be shot down like dogs in the street—unarmed Americans and dogs alike—until we demand that police be given better—and constant—training in nonviolent tactics, serious consequences for police who engage in excessive force, and a seismic shift in how law enforcement agencies and the courts deal with those who transgress.
WC: 967