Legal Features
---
The Rutherford Institute is committed to expertise in addressing issues of human rights and civil liberties. Legal Features contains an in-depth analysis of the legal issues which The Rutherford Institute is involved in everyday. Court briefings, case summaries, and legal analysis can provide a deeper understanding of the work which The Rutherford Institute takes on in order to protect and extend human rights and civil liberties throughout the country.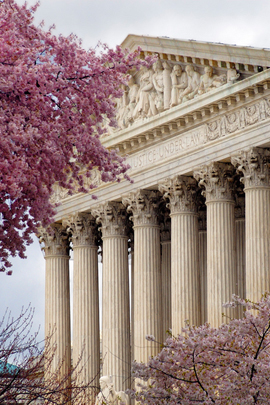 ---
Recent Articles
August 28, 2015
U.S. Court of Appeals Opinion: Hodge v. Talkin, et al.
In a blow to First Amendment rights, the U.S. Court of Appeals for the District of Columbia has upheld as "reasonable" a 60-year old federal statute criminalizing expressive First Amendment activity on the Supreme Court plaza. The appeals court's ruling reverses a lower court decision in Hodge v. Talkin, et al., that found the ban to be "repugnant" to the Constitution and "unreasonable, substantially overbroad, and irreconcilable with the First Amendment."
August 27, 2015
Supreme Court Petition: Raub v. Campbell
Attorneys for The Rutherford Institute have appealed to the U.S. Supreme Court on behalf of decorated Marine Brandon Raub who was seized by a swarm of Secret Service, FBI and local police officials and involuntarily committed to a mental institution for a week after posting controversial song lyrics and political views critical of the government on his Facebook page.