John Whitehead's Commentary
John Wayne Was True Grit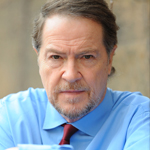 "Fill your hand, you son of a bitch."—John Wayne in True Grit
Some people cast incredible shadows that grow even stronger before their deaths. And when they die, they metamorphosize into myths—such as Hitchcock in film, Mozart in classical music, the Beatles in popular music, Hemingway in literature, Einstein in science, etc. Such was John Wayne. Indeed, a Harris Poll, released in January 2011, placed Wayne third among America's favorite film stars—the only deceased star on the list and the only one who has appeared on the poll every year since its inception in 1994.

Born in May 1907, Marion Michael Morrison set the standard for the tall (6'4"), strong, silent type. A former USC football player, Wayne broke into movies in the 1920s by doing bit parts. The lowly paid actor rose to stardom when he was cast as the Ringo Kid in John Ford's classic western Stagecoach (1939). From there, he never looked back.
Wayne's imitators and those he influenced, while too numerous to list, range from tough guys like Clint Eastwood to comedians such as Jim Carrey, who caricatured Wayne's mannerisms in Ace Ventura: Pet Detective.
Some have criticized Wayne for making too many films, and he did make some mediocre movies, but seeing Wayne acting is how most of us know him. Thus, there's no better way to remember Wayne than watching his movies. And Wayne's popularity as a film star has not waned.
This year, FOX is releasing Blu-ray editions of two of Wayne's films, One Horse Soldiers (1954) and The Comancheros (1961). And Paramount is releasing Rio Lobo (1970) and Big Jake (1971). While they are worth a look, these films are not among Wayne's best. Here are what I consider John Wayne's ten best films:
Stagecoach (1939). The first pairing of Wayne and director John Ford. By the time Ford called upon Wayne to play the Ringo Kid, "Wayne had developed the distinctive stop-and-start speech patterns that give his line readings the swinging cadences of black verse," writes Dave Kehr for The New York Times, "and the peculiarly delicate, dancerlike way in which he carries his big (and ever bigger) body along, coming to rest with his hip cocked in the contrapposto pose of classical statuary." Orson Welles so revered this film that he made his crew watch it before making Citizen Kane.
Angel and the Badman (1947). Wayne is a notorious gunslinger who, when wounded, is taken in by a pacifist family that nurses him back to health. While he is recuperating, the daughter (Gail Russell) in the family falls for the Duke. One of Wayne's better performances.
Red River (1948). This Howard Hawks epic of a grueling cattleman and the battle of wills between father and son (Montgomery Clift) is one of the best westerns ever made. This classic film captures a great fight scene as Wayne and Clift duel across the earth and between cattle hooves. A great John Wayne performance as the cattle boss and one that should have won him an Oscar.
The Sands of Iwo Jima (1949). Wayne earned his first Oscar nomination as the tough, gritty Marine Sergeant who trains a group of wisecracking troops for one of the pivotal battles of World War II. Later, his squad would help capture Iwo Jima from the Japanese.
The Quiet Man (1952). Wayne plays Sean Thornton, a weary American ex-boxer who returns to the Irish village of his childhood and tries to take a spirited woman (Maureen O'Hara) as his wife despite the strenuous objections of her brawling brother (Victor McLaglen). Of course, Wayne has to fight for the woman, and a great fight it is.
The Searchers (1956). This John Ford film is, along with Shane, one of the two best westerns ever made. Wayne plays a hard-hearted frontiersman who spends years searching for his niece who was kidnapped by the Indians—a much-copied storyline in other film genres. A great performance by Wayne. And Wayne's often-repeated phrase in the movie, "That'll be the day," so inspired Buddy Holly that he wrote a classic rock song of the same title.
Rio Bravo (1959). When Sheriff John T. Chance (Wayne) takes a killer into custody, the killer's cattle baron brother comes to break him out with a blockade of gunmen. Great supporting case—Dean Martin, Ricky Nelson, Walter Brennan and Angie Dickinson. Overlooked at the time by critics, this film has proven very influential and has been remade in other contexts, such as John Carpenter's Precinct 13.
North to Alaska (1960). Wayne, as a gold prospector, picks up his partner's fiancé and brings her home to Nome, Alaska. Great supporting cast, including Stewart Granger. This slapstick film shows Wayne's obvious comedic talents.
The Man Who Shot Liberty Valance (1962). This fine John Ford film has tough cowboy Wayne protecting an idealistic lawyer (James Stewart) against a mean, nasty villain (Lee Marvin). Wayne's use of the word "pilgrim" in this film became a standard for his impersonators. Strong but subtle performance by Wayne.
True Grit (1969). Based on the Charles Porter novel, Wayne plays the cantankerous marshal, Rooster Cogburn, who is hired by a girl to find her father's murderers. With good support from Kim Darby and Glen Campbell, this film won the Duke his only Oscar. Remade in 2010 by the Coen Brothers.
To those who followed Wayne's development as an actor, it was somewhat disheartening that his greatness as an actor was not recognized until he was nearing death. He was diagnosed with cancer a few years after winning the Oscar. However, despite the criticism heaped on him for his ultra-conservative stands, when his death came it moved many—as did Wayne's brave walk, looking gaunt and ghostly, down the Academy staircase two months earlier to present the best picture Oscar to The Deer Hunter.
On May 26, 1979, several weeks before his death, Wayne's enduring status as an American icon was finally recognized when he won the Congressional Gold Medal. Hollywood stars and leaders from across the political spectrum testified before Congress about the merit of conferring the award on Wayne. As Robert Aldrich, the president of the Directors Guild of America, opined:
It is important for you to know that I am a registered Democrat and, to my knowledge, share none of the political views espoused by Duke. However, whether he is ill disposed or healthy, John Wayne is far beyond the normal political sharp shooting in this community. Because of his courage, his dignity, his integrity, and because of his talents as an actor, his strength as a leader, his warmth as a human being throughout his illustrious career, he is entitled to a unique spot in our hearts and minds. In this industry, we often judge people, sometimes unfairly, by asking whether they have paid their dues. John Wayne has paid his dues over and over, and I'm proud to consider him a friend and am very much in favor of my Government recognizing in some important fashion the contribution that Mr. Wayne has made.
John Wayne was the real deal. Off-screen, he was much like the characters he played on-screen. And he fought courageously to the end, dying on June 11, 1979. After all, he was only following his own philosophy. As Wayne once said, "Courage is being scared to death but saddling up anyway."