John Whitehead's Commentary
Mark David Chapman, The Catcher In The Rye, And The Killing of John Lennon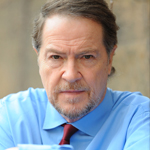 John Lennon would have been 60 years old next week if he hadn't been gunned down by Mark David Chapman in December of 1980. This week, Chapman made his first bid for parole from his New York prison. He was sentenced to life but is eligible for parole once he has served 20 years.

There has been a lot of opposition to Chapman's possibility of parole. Yoko Ono, the widow of the former Beatle, says she wants Chapman kept in prison because she fears for the safety of Lennon's two sons, Julian and Sean.

Are Ono's fears and those of others justified? A brief look at Chapman may provide an answer.

Chapman was fascinated with J. D. Salinger's phenomenally successful novel, The Catcher In The Rye (1951). Chapman believed that he would become Holden Caulfield, the young protagonist of the novel, when he killed Lennon.

Caulfield loved children and considered the adult world ugly and depressing. His dream, he told his younger sister Phoebe, was to be the "catcher in the rye" who saved children from falling over "some crazy cliff." To fall over the cliff seemed to symbolize falling into the world of adults--mostly made up of the detestable "phonies" that Caulfield hated. Thus, Caulfield sought escape from the adult world.

Chapman first read Catcher when he was sixteen, Holden's age in the book. Like Holden, Chapman loved children. He was a favorite counselor at YMCA camp. Between spells of Christianity and Satanism, Chapman returned to the Holden Caulfield character. While living in Hawaii, he even requested the state attorney general to change his name to Holden Caulfield. Chapman believed that Holden Caulfield would have killed Lennon: "I'd look at the picture [of Lennon] and say: 'You phony, I'm going to get you.' And then I would pray for demons to enter my body, to give me strength to pull the gun out."

Leaving his wife in Hawaii, Chapman traveled to New York to find John Lennon. He later told lawyers that he had considered other celebrities such as Johnny Carson, Jackie Onassis, Paul McCartney, Elizabeth Taylor, George C. Scott, and Ronald Reagan. While he did not dislike these individuals, he wanted to kill them because they were popular. After murdering his victim, Chapman planned to hold up a copy of The Catcher In The Rye and shout, "I am Holden Caulfield, the catcher in the rye of the present generation." However, he was surprised to discover that he did not turn into Caulfield after shooting Lennon.

The first policeman on the scene did not believe that the well-dressed, polite Chapman was the killer. "I'm sorry I gave you guys all this trouble," Chapman kept saying. At the police station, Chapman spoke in Holden's language: "I have two parts in me. The big part is very kind; the children I worked with will tell you that. I have a small part in me that cannot understand the world and what goes on in it. I did not want to kill anybody and I really don't know why I did it."

Chapman decided that since he had not actually turned into Holden Caulfield, the purpose of his killing Lennon was to draw attention to the book. "Everybody's going to be reading this book--with the help of the god-almighty media," he told his lawyer. Chapman called himself "the catcher in the rye for this generation," explaining that each generation has its own catcher, and compared himself to Moses and Jesus. Just before his sentencing, Chapman read the "catcher in the rye" passage from the book aloud in the courtroom.

Mark David Chapman identified with Holden Caulfield's sensory overload. For both, existing in modern society was too much to handle. So, obviously in a fit of insanity, Chapman shot a Beatle. Chapman was only 25 years old when he unloaded his gun into John Lennon. There was no death penalty law in New York at the time of the killing. The state, however, reinstated capital punishment in 1995. Thus, there is a good chance that had the death penalty been in effect, Chapman would be dead today. Maybe he should take solace in that and let John Lennon's children and widow live in peace.