John Whitehead's Commentary
Mother Teresa: The Greatest Person of the Twentieth Century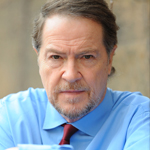 As the Twentieth Century draws to a close, a multitude of lists detailing the most important or influential people from the past 100 years are being compiled. A frequent name on these lists is Mother Teresa, a modern-day saint who undoubtedly should top every list as the most important person of this century. In an era of agents and promoters, Mother Teresa had no ambition to become a celebrity. Instead, her goal "was not to be successful but to be faithful." However, through her lifelong dedication to ministering to the poor, she became known worldwide as a symbol of selflessness and compassion.

Born in 1910 in what is now Macedonia, Agnes Gonxha Bojaxhiu was called at an early age to serve God. By age 18, she had moved to India and joined a religious order that ran mission schools. After becoming a nun and taking the name Sister Teresa, she received a calling to serve Jesus "among the poorest of the poor." In the streets and slums of Calcutta, the "Saint of the Gutter" began ministering to the poor and also founded the Missionaries of Charity. Among patients Mother Teresa cared for at her first mission was a dying man whose body was being eaten away by cancer. "How can you stand my stench?" he demanded. "It's nothing," she responded, "compared to the pain you must feel." Such unequivocal compassion for humanity and dignity of life was reflective of Mother Teresa's character and of those who worked with her.

Upon awarding Mother Teresa the Nobel Peace Prize in 1979, the Nobel Prize Commission said, "The loneliest, the most wretched and the dying have at her hands received compassion without condescension based on reverence for man." Accepting the award, Mother Teresa said, "I am grateful to receive it in the name of the hungry, the naked, the homeless, of the crippled, of the blind, of the lepers...people that have become a burden to the society and are shunned by everyone"--everyone, that is, accept Mother Teresa. Her wellspring of passion was fed by the belief that in nursing the poor, she was nursing God.

Others shared Mother Teresa's compassion and joined the Missionaries for Charity, which now numbers over 4,500 nuns and brothers who run almost 600 homes and hospices for the poor in 126 countries. From transforming schools and homeless shelters in Calcutta to establishing AIDS hospices, shelters for lepers and addicts, and orphanages around the world, Mother Teresa affected millions of lives directly and indirectly. Of the 300 million people worldwide living below the poverty line, Mother Teresa fed, housed, or nursed hundreds of thousands of the impoverished through her work and the work of her followers.

Mother Teresa influenced thousands more by calling them to look outward, declaring that "holiness is not a luxury of a few...it is everyone's duty: yours and mine." "At a time when many Americans increasingly are turning their attention inward on domestic problems, Mother Teresa beckoned us outward to see, to feel and to respond to the needs of society's outcasts," observed World Vision President Robert Seiple. Explaining why she was devoted to society's downtrodden, Mother Teresa said, "I've been told I spoil the poor by my work. Well, at least one congregation is spoiling the poor, because everyone else is spoiling the rich."

For almost seventy years, Mother Teresa fought the battle of poverty in the trenches, side-by-side with the poor, attacking slums and rescuing the impoverished. And although not yet canonized by the Vatican, Mother Teresa was truly a saint. Prior to her death in 1997, she described a dream she had of dying and going to heaven where St. Peter said, "Go back to Earth, there are no slums up here." And thanks to the devotion of Mother Teresa and her legacy, the Missionaries of Charities, there are fewer slums down here.

Describing her calling, Mother Teresa said, "I see God in every human being. When I wash the leper's wounds, I feel I am nursing the Lord himself. Is it not a beautiful experience?" Like no other figure of this century, Mother Teresa redefined spirituality and illustrated the strength of faith and God's love through her life-long dedication to selflessly serving others.