John Whitehead's Commentary
Pete Seeger: A Teaspoon at a Time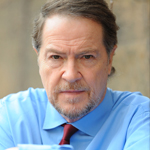 I learned that trying to stay away from an argument is not necessarily a good idea. People are out there being killed, and if you say, "Oh, no, I am going to remain neutral" and take the safer stand, that to me is rather immoral.--Pete Seeger
The release of Bruce Springsteen's fine new album
We Shall Overcome: The Seeger Sessions
will thrust the legendary folksinger Pete Seeger into the limelight. And justifiably so.
Pete, who turns 87 this month, is a hero to many. As the
New York Times
notes, this musician, songwriter and song collector-historian "helped spur the politically tinged folk music revival of the '50s and '60s. He spoke out against the Vietnam War and has remained an activist, notably on environmental issues."
Like a giant sequoia, Pete has roots that reach back to the time when music, as we now know it, was just beginning. Before the Beatles, Rolling Stones, Byrds, Joan Baez, Peter, Paul and Mary and Bob Dylan, to name a few, there was Pete Seeger. With his five-string banjo in hand, he helped lay the foundation for American protest music, singing about the plight of everyday working folks and urging listeners to political and social activism in hopes of improving their country.
Born in New York City on May 3, 1919, Pete, whose father was a pacifist musicologist, was plunged into the world of music and politics from an early age. He studied sociology for awhile at Harvard but dropped out. He then spent the summer bicycling through New England and New York, painting watercolors of farmers' houses in return for food. Looking for but failing to get a job as a newspaper reporter in New York City, he then worked at the Archives of American Folk Music in Washington, D.C. Shortly thereafter, Pete met the legendary Woody Guthrie and formed the Almanac Singers, a group that became known for its political radicalism.
In 1942, Pete was drafted by the Army and sent to Saipan in the Western Pacific. After the war, he helped start the People's Songs Bulletin, later
Sing Out!
magazine, which combined information on folk music with social criticism.
In 1950, Pete formed the Weavers. Although the group became the first commercially successful folk group--selling four million records in two years--the House Un-American Activities Committee blacklisted them in 1952. As a result, they could no longer record or appear on radio and television.
In 1955 during the "Red Scare," HUAC subpoenaed Pete to appear before them. In the hearings, he refused to disclose his political views and the names of his political associates. When asked by the committee to name for whom he had sung, Pete replied, "I am saying voluntarily that I have sung for almost every religious group in the country, from Jewish and Catholic, and Presbyterian and Holy Rollers and Revival Churches.... I have sung for many, many different groups ... over the twenty years or so that I have sung around these forty-eight states." He was sentenced to one year in jail but, after quoting the First Amendment, successfully appealed the decision after spending four days behind bars.
Thereafter, Pete began touring on his own, inspiring a new generation of musicians who looked up to him as a mentor. He primarily extended existing materials to create several of the most popular folk revival songs of the 1960s, including "If I Had a Hammer," "Guantanamara" and "Where Have All the Flowers Gone?" He used references from the Old Testament and Welsh poet Idris Davies for lyrics in songs such as "Turn, Turn, Turn" and "The Bells of Rhumney."
A leader in the peace and civil rights movements, Pete recorded "We Shall Overcome" and sang it on the 50-mile walk from Selma to Montgomery, Alabama, with Martin Luther King, Jr. and 1,000 other marchers. That former gospel song went on to become the anthem for the civil rights movement and was translated into many languages.
Pete was awarded the prestigious Kennedy Center Honors in 1994. In 1996, he was inducted into the Rock and Roll Hall of Fame for his contribution to music and to the development of rock and folk music. In April of that year, he received the Harvard Arts Medal and, after decades of creating songs, won a Grammy Award in 1997 for Best Traditional Folk Album for
Pete
.
But praise has not always been so lavishly heaped on him. Often chastised for his "communist beliefs," Pete has dealt with criticism and misunderstanding. "I say I'm more conservative than Goldwater. He just wanted to turn the clock back to when there was no income tax. I want to turn the clock back to when people lived in small villages and took care of each other," he says.
While many of the legendary men and women he associated with are gone, Pete continues his political work with a focus now on environmental endeavors. He still seems to subscribe to the same philosophy he held four decades ago when he advised young people to follow their hearts and take initiative: "Here's hoping enough of your dreams come true to keep you optimistic about the rest. We've got a big world to learn how to tie together. We've all got a lot to learn. And don't let your studies interfere with your education."
Yet in my
January 2006 interview
with Pete, he wasn't quite as optimistic: "If anybody asks what the chances are that the human race makes it, I'd have to give it a 50-50 chance. But that's because this implies that any one of us might be the grain of sand to make the scales go the right way, instead of the wrong way."
However, enough of what has always motivated Pete is still with him. As he told me: "I tell everybody a little parable about the 'teaspoon brigades.' Imagine a big seesaw. One end of the seesaw is on the ground because it has a big basket half full of rocks in it. The other end of the seesaw is up in the air because it's got a basket one-quarter full of sand. Some of us have teaspoons, and we are trying to fill it up. Most people are scoffing at us. They say, 'People like you have been trying for thousands of years, but it is leaking out of that basket as fast as you are putting it in.' Our answer is that we are getting more people with teaspoons every day. And we believe that one of these days or years--who knows--that basket of sand is going to be so full that you are going to see that whole seesaw going zoop! in the other direction. Then people are going to say, 'How did it happen so suddenly?' And we answer, 'Us and our little teaspoons over thousands of years.'"