John Whitehead's Commentary
Woodstock: Peace and Love -- or Commercialism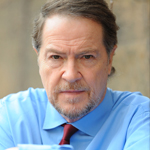 Although hip-hop and heavy metal largely replaced rock 'n' roll as the musical genre of this year's festival, Woodstock '99 and Woodstock '69 were surprisingly similar. Unknown to many who flocked to the original Woodstock in 1969, the 25th anniversary Woodstock in 1994 and this year's 1999 Woodstock, however, money -- not peace and love -- was the common denominator linking the events.

The original three-day music festival, held in August 1969 on the Yasgur farm in New York, was touted as a cultural milestone and has become synonymous with an entire generation. Described as the "Woodstock Nation," the "citizens" reportedly practiced peace, love, sex and drugs. However, as David Dalton describes in Gadfly magazine, "Woodstock was a hippie Disneyland, a triumph of public relations and old-fashioned merchandising."

Two venture capitalists and one "hippie entrepreneur" hatched the idea for the first Woodstock art and music fair. Charging a mere $24 for a three-day ticket, the crew succeeded in creating a very expensive music festival costing more than $2 million. Although 400,000 people attended the original Woodstock, only 200,000 actually paid for a ticket. The gates were rushed, resulting in thousands of concertgoers enjoying the festival for free.

With the movie that was made of the event grossing more than $50 million, plus the music and video sales, Woodstock 1969 was more than a cultural giant. It was a financial cash cow, repeatedly milked by promoters during the past thirty years.

Capitalizing on the twenty-fifth anniversary of Woodstock, the music festival was again organized by profit-hungry promoters. This time tickets sold for $135, with almost 300,000 in attendance. Even more fans enjoyed from home -- thanks to pay-per-view programming. But again, the real money was to be made in mass video and music sales.

Like a profitable movie that spawns repeated sequels, promoters inevitably launched a third Woodstock. Two festival veterans, including John Scher, a promoter of the 1994 event and Michael Lang, who participated in the production of the 1969 event, promoted Woodstock 1999. The music festival cost an estimated $38 million to produce this time around. But with tickets selling for $150, it was dubbed by some participants as "Profitstock."

This year approximately 200,000 people attended the three-day festival in Rome, New York, which was not just about music, as those attending soon found out. Woodstock was about merchandise -- complete with booths offering tattoos, body piercings, T-shirts and commemorative Woodstock credit cards. As before, the scene was accessible to thousands more via MTV and pay-per-view programming. With a video and musical recording in the works, millions more will enjoy Woodstock III--for a price.

Capitalizing on the sweltering weather, attendants were charged $4 for a small bottle of water. By charging $6 for a hot dog and $12 for a pizza, as one fan said, "It wasn't Woodstock. It was Commercialstock." Another concertgoer noted that it was "capitalism at its finest."

Fed up with commercialism and high prices, the crowd began to retaliate. Ironically, as the festival drew to a close on Sunday evening, "peace candles" distributed earlier were used to torch an overturned Mercedes-Benz. Small fires multiplied and grew into large conflagrations, as hundreds began smashing and destroying anything in sight. At least twelve tractor-trailers were burned, vendors' booths were destroyed and looted and cash machines were broken open. About fifty state policemen were called to the scene. Dressed in riot gear, the authorities attempted to return order but were pitifully outnumbered.

Despite the rioting and burning, money was still being made. Sandwich vendor J.P. Kidwell said, "'We were selling subs for $2 or $3 during the riot. In a half-hour's time, we probably made $5,000." Thus the true spirit of those behind Woodstock -- making money -- continued uninterrupted in spite of the rioting, looting and mass destruction.

The true essence of Woodstock -- captured by a disgruntled and undoubtedly broke concertgoer who scrawled on a wall "PEACE, LOVE AND COMMERCIALISM" -- is a sad testament to a good idea gone bad. It now seems that everything comes with a price -- even peace and love.