OldSpeak
Book Review: Jacob Bunn: Legacy of an Illinois Industrial Pioneer
By Dave Caddell
November 30, 2008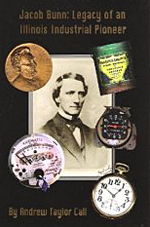 Reaching deep into the rich history of Springfield, Illinois, and a family rooted in timeless principles and ethics, Andrew Call sheds a fresh perspective on early American industry and local politics in his book Jacob Bunn: Legacy of an Illinois Industrial Pioneer. Focusing on Bunn, his family and entrepreneurial legacy, along with the early development of Springfield, Call paints an intriguing picture of Bunn's many business ventures, community benevolence and significant contribution to a legendary American political hero—Abraham Lincoln. As Call illustrates time and again throughout the book, Bunn brought life to the idea that principled leadership can shape and move communities in a positive way.
Call's legendary accounts and use of historical documents capture Jacob Bunn's commitment to the timeless qualities that have led business legends to the American dream: excellence, determination to overcome adversity, civic duty, work ethic and integrity. Indeed, as Call recognizes in this book, throughout Bunn's life he left a blueprint for those who dare to seek honorable success. Capturing the hope that Bunn's character has lived on in others and will continue to do so, Call writes, "The story of Bunn's achievements and legacy is also meant to recognize all who have followed the examples of integrity, vision, an undying determination to overcome obstacles, and a commitment to influencing family, community and society in positive ways."
From beginning to end, and no doubt the product of exhaustive research and a clear commitment to bringing a complete picture to the reader, Call's book charts a clear path through Jacob Bunn's life. Call describes Bunn's life as the quintessential "rags to riches" story that was common among so many entrepreneurs of the late 18th and 19th centuries. Call begins by detailing Bunn's humble beginnings in New Jersey and his inspirational determination to "travel westward with the hope shared by so many of his time for success and fortune."
This history-rich account explains how Bunn, through hard work and a keen dedication to fairness, helped Springfield explode with economic opportunity in the 1800s. In fact, as Call details, beginning at the young age of twenty-two, Bunn began to essentially co-pioneer the Springfield community with other local business leaders. Among his extraordinary contributions to Springfield were: two banks, a newspaper, at least four railroad companies, several public utilities, a grocery company, a watch company, the Springfield telegraph industry, a coal company, an iron company, a liquor company and Illinois' new state capitol building. But perhaps the most intriguing aspect of Jacob Bunn's life was his close relationship with Abraham Lincoln.
The fascinating bond shared among Jacob Bunn, his brother John Bunn and Abraham Lincoln is explored in rather great detail. Describing the relationship as a "stronghold of friendship, integrity, and vision for community, state and country," Call details how the Bunn family contributed significantly to the financing of Lincoln's presidential campaign, in addition to providing Lincoln their friendship and support. To this end, Call provides fascinating excerpts from a letter John Bunn wrote describing his personal and unique first-hand impressions of Lincoln. In addition to helping Abraham Lincoln reach the White House, Call brings out the various interesting dynamics of the relationship, writing, "From the days of their association with the Alton and Springfield Railroad to the day when he introduced his brother John to Lincoln, to the days of the 1860 presidential campaign, Jacob Bunn had been for Lincoln a commercial associate, a legal client, a political ally, a kingmaker, and a friend."
In short, Call's book provides insight and interest to almost any reader. However, it is a must read for those interested in history or how to achieve remarkable success through ethical business practices and a sense of civic duty. Digging deep into the life of Jacob Bunn—truly a historical role model—Call illustrates Bunn as a committed family-man, innovative entrepreneur and a principled community leader who was always interested in bringing needed services to a growing community. It is a story that will no doubt ignite a sense of inspiration, civic duty and a work ethic, coupled with integrity, to those who read it.
DISCLAIMER: THE VIEWS AND OPINIONS EXPRESSED IN OLDSPEAK ARE NOT NECESSARILY THOSE OF THE RUTHERFORD INSTITUTE.