OldSpeak
Spiritual Light for a Dark Generation: New Letters of Thomas Merton
By Tanya Stanciu
September 23, 2002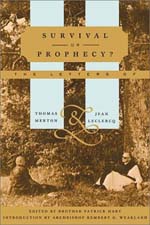 Every generation has its spiritual classics, the books people turn to over and over again for hope and inspiration. A list of modern classics might include C. S. Lewis's Mere Christianity, Henry David Thoreau's Walden, and even Ayn Rand's The Fountainhead. Occasionally a classic arises from a completely unlikely location. This was certainly the case with Thomas Merton's The Seven Storey Mountain, the spiritual autobiography of a 33-year-old Trappist monk that continues to draw readers all over the world who are interested in spiritual questions. Since Merton's death in 1968, his journals, letters, and various incidental writings have been published, and new material is emerging even now. This year Merton fans can enjoy a new volume of letters, Survival or Prophecy? The Letters of Thomas Merton and Jean Leclercq (Farrar, Straus and Giroux, 2002, edited by Brother Patrick Hart).
When The Seven Storey Mountain was published in 1948, the first printing was set at a modest 5,000 copies because it wasn't expected to sell very well. Yet a little over a year later, when Robert Giroux, the book's editor, traveled to Kentucky to attend the author's ordination as a priest, he brought a gift for the writer: copy No. 100,000 of Mountain, bound in a special leather binding. The Seven Storey Mountain sold over 600,000 copies its first year, and it has never gone out of print. Worldwide sales have reached into the multiple millions today.
Maybe someone should have foreseen it. Published at a time of alienation and disillusion, in post-World War II, early cold war America, the eloquent story of a young man's search for meaning offered reassurance and hope. Merton was an articulate storyteller, with a sense of humor and a refreshing, straightforward honesty.
Merton was born in Spain in 1915, the son of two artists, both of them non-religious, his father from New Zealand, his mother from Long Island. His mother died when he was 5, and he spent most of his childhood living with his father or his father's friends in various parts of Europe. He was orphaned at 15 when his dad died of a brain tumor.
Supported by a British guardian, Merton spent a chaotic year on a scholarship at Cambridge University, but then he got into trouble and was shipped overseas to live with his mother's family in America. Although it is not recounted in Mountain, which had to pass through Catholic censors before publication, it later emerged that Merton had fathered an illegitimate child, prompting a legal settlement and his sudden departure from Britain.
Despite his disastrous freshman year in England, Merton thrived in America. He went to Columbia University, where he made friends, wrote and illustrated for the college humor magazine, and was deeply influenced by a handful of remarkable teachers, most notably the literature professor Mark Van Doren.
Through his studies, especially his thesis on the poetry of William Blake, and through several good friends and teachers, he found himself drawn to religion. Merton was baptized in 1938, and almost immediately after his conversion, he began to consider the priesthood. Over the next few years, he struggled with this vocation, and only after an intense interior battle did he enter the monastery in 1941, dubbing it "the four walls of my new freedom."
His life up to entering the monastery makes up the basic story line of The Seven Storey Mountain, which has sometimes been called a modern Confessions of Saint Augustine. Because Merton's search for spiritual sustenance is so personal yet so universal, and because his story is set during a fascinating time in American history, the book has appealed to Catholics and non-Catholics, atheists and agnostics alike.
As he grew older, Merton challenged many aspects of the monastic life that he initially accepted at face value. This year's volume of letters Survival or Prophecy? The Letters of Thomas Merton and Jean Leclercq illuminates some of the problems Merton experienced at the monastery, a place he apparently found more and more confining as the years went on. While Leclercq, a French Benedictine, traveled widely, Merton, a Trappist, spent the last twenty years of his life almost entirely cloistered. His requests to travel were rejected repeatedly, as were his requests at the other extreme: to spend at least some of his time in solitude, away from the close quarters and distracting hustle and bustle of the monastery. Christ began his ministry by going into the desert, Merton pointed out, and he argued that monks should be allowed to engage in solitary contemplation. But many Catholic authorities considered a hermit's retreat to be radical, even dangerous. In addition, many Church authorities and some of his colleagues were jealous of Merton's talent and celebrity, a fact that clearly amused him because of the contradictions it exposed in parts of the Catholic hierarchy. Monks, after all, were not supposed to seek the approval of the outside world. He wrote about one group who had criticized him: "The real source of their objection and anger is that after all the world listening to me rather than to them. Which is really very funny indeed."
Beyond these petty jealousies, Merton and Leclercq's main concern was a larger narrow-mindedness they observed in the Church and in larger society. In their letters, they worried that Catholic institutions, including the monasteries, were becoming so rigid that they threatened to stifle the deep religious practices they originally were founded to preserve.
The Seven Storey Mountain made Merton famous and allowed him to correspond with some of the most prominent thinkers of his day, from Boris Pasternak and Aldous Huxley to Henry Miller and Lawrence Ferlinghetti. Merton apparently never stopped questioning what it meant to follow God simply and freely. A rigorous, untiring drive for authenticity flows through all his writing, from his full-length books to his smaller works.
It was only in the later 1960s, after a change of leadership at his monastery, that Merton finally received permission to travel. His first international trip, to a conference in Bangkok on Eastern and Western contemplative practices, tragically would be his last. Shortly after delivering his scheduled lecture at the conference, Merton was killed in an electrical accident.
In the introduction to Harcourt Brace's fiftieth anniversary edition of Mountain, published in 1998, Robert Giroux recalls his first meeting with Merton, when the two were classmates at Columbia. When Merton walked into the offices of the Columbia literary magazine with his manuscripts, Giroux recalls, "I thought to myself, 'This man is a writer.'"
DISCLAIMER: THE VIEWS AND OPINIONS EXPRESSED IN OLDSPEAK ARE NOT NECESSARILY THOSE OF THE RUTHERFORD INSTITUTE.