On The Front Lines
Rutherford Institute Files Fourth Amendment Lawsuit Against Missouri School Demanding End to Mass Student Searches, Random Lockdowns
SPRINGFIELD, Mo. - Attorneys for The Rutherford Institute have filed a lawsuit against a Missouri school district alleging that the district's policy of conducting mass, suspicionless searches of students and their belongings violates the United States and Missouri Constitutions. In Burlison v. Springfield Public Schools, et al., filed in the U.S. District Court for the Western District of Missouri, Institute attorneys allege that officials at Central High School in Springfield violated their students' Fourth Amendment right to privacy when they imposed a "lockdown" of the school for the purpose of allowing the local sheriff's department to conduct dragnet searches of students' backpacks, purses and other effects.

The complaint asserts that these lockdowns and mass searches are a continuing policy of the school district and asks the court to declare the practice illegal and enjoin the school and the local sheriff from engaging in this practice. The Rutherford Institute's complaint in Burlison v. Springfield Public Schools is available here.

"Such random, suspicionless lockdown raids against children teach our children a horrific lesson," said John W. Whitehead, president of The Rutherford Institute. "The lesson being imparted-one that goes against every fundamental principle this country was founded upon-is that we have no rights at all against the state or the police."

According to the complaint, on April 22, 2010, the principal of Central High School announced over the public address system that the school was going into "lockdown" and that students were prohibited from leaving their classrooms. Deputies and agents of the Greene County Sheriff's Department thereafter ordered students and teachers to leave all personal belongings behind and exit the classrooms. Dogs were also brought in to assist in the raid. Upon re-entering the classrooms, students allegedly discovered that their backpacks, purses and other effects had been opened and rummaged through.

Mellony and Doug Burlison, who have two children at Central High School, complained to school officials that the lockdown and search were a violation of their children's rights. According to the complaint, school officials responded that this was a "standard drill" and policy of the school district which would continue.

The lawsuit, filed by the Burlisons on behalf of their two children, asks the court to declare that the practice of effecting a lockdown of the school and conducting random, suspicionless seizures and searches violates the Fourth Amendment to the U.S. Constitution and the similar provision of the Missouri Constitution. It also seeks damages for the violation of the constitutional rights of one of the children, whose backpack and belongings were allegedly searched by officials during the April 22 lockdown. In addition to the Springfield Public Schools, the complaint names as defendants the district superintendent, the Central High School principal and the Sheriff of Greene County.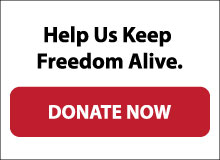 ---
Press Contact
,