On The Front Lines
Nebraska Law Denies Unmarried Biological Fathers the Right to Claim Custody of Their Children
Rutherford Institute Attorneys Appeal to the U.S. Supreme Court on Behalf of Father Seeking Custody
WASHINGTON--Attorneys for The Rutherford Institute have appealed to the U.S. Supreme Court on behalf of Luke Armour, who lost custody of his newborn daughter due to an administrative technicality. Nebraska law requires fathers to file a petition with the court after filing a paternity claim for children born out of wedlock. If the petition is not filed within 30 days of the claim, the father forever loses his right to claim custody. Institute attorneys argue in their brief that the Nebraska law violates Armour's Fourteenth Amendment right to due process by making fathers go beyond the steps required by most states in claiming paternity and then penalizing them unfairly for not following procedure.
In late June of 1998, Armour received a phone call from his ex-girlfriend, who had moved away from the area where he lived, informing him that he was the father of her unborn child. Before the phone call, Armour had been unaware she was pregnant. On July 31, 1998, ten days after the child's birth, Lutheran Family Services mailed a notification letter to Armour informing him that his daughter had been born and that the mother planned to give the baby up for adoption. Armour, 18 years old at the time of his daughter's birth, complied with the state statute and filed a Notice of Intent to Claim Paternity and Obtain Custody of his baby daughter. He immediately hired a lawyer to file a petition in court as required by Nebraska law. Armour acknowledged paternity, accepted liability for contributing to the support and education of the child, and requested custody. But because of a technical filing error by Armour's attorney, which caused the 30-day deadline for filing the petition to lapse, the court dismissed his petition and stripped him of his right to claim custody of his daughter.
"Nebraska requires that an unwed biological father engage in a 'race to the courthouse' to file a lawsuit within 30 days of receiving notice of his child's existence or be forever barred from having a place in his child's life," said John W. Whitehead, president of The Rutherford Institute. "The state's irrational and draconian treatment of fathers is a violation of their right to due process of law and equal protection in one of the most cherished areas of life--the right to keep one's children."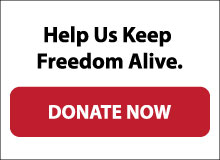 ---
Press Contact
Nisha N. Mohammed
Ph: (434) 978-3888, ext. 604; Pager: 800-946-4646, Pin #: 1478257
Email:
Nisha N. Mohammed