On The Front Lines
President of The Rutherford Institute Appears on Three-part 'Security or Civility' Series, Fox News Channel
CHARLOTTESVILLE, Va.--
John W. Whitehead, president of The Rutherford Institute, will be appearing in "Security or Civility," a three-part FOX News Channel special that will air Sept. 5-6 and Sept. 9, 2002, from 5-6 pm, EST. The series, which focuses on immigration, profiling and civil liberties in a post-Sept. 11 climate, will be broadcast during "The Big Story with John Gibson." Whitehead, who appears on the second and third nights of the series, spoke to FOX about the dangers of profiling and the erosion of civil liberties following the terrorist attacks on New York and Washington, DC.
To learn more about Whitehead and his views on privacy, profiling and civil liberties post-Sept. 11, visit https://www.rutherford.org/newsite1/courts/freedom.asp.
The Rutherford Institute is an international, nonprofit civil liberties organization committed to defending constitutional and human rights.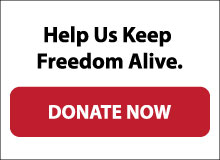 ---
Press Contact
Nisha N. Mohammed
Ph: (434) 978-3888, ext. 604; Pager: 800-946-4646, Pin #: 1478257
Email:
Nisha N. Mohammed