On The Front Lines
District Court Green-Lights Class Action Lawsuit Against U.S. for Pattern of Religious Discrimination
Rutherford Institute Attorneys Prepare Suit in Defense of Evangelical Navy Chaplains on Grounds of Discrimination in Hiring, Promotion and Treatment

WASHINGTON, D.C.--
The U.S. District Court for the District of Columbia has ruled that 34 U.S. Navy chaplains have the right to prosecute a class action lawsuit against Gordon R. England, secretary of the U.S. Navy. The chaplains, aided by The Rutherford Institute, contend that the Navy has engaged in a pattern of wrongful religious discrimination against evangelical chaplains. Institute attorneys have charged that the Navy established and maintained an unconstitutional religious quota system and discriminated against evangelical chaplains in regard to promotions, assignments and job retention. Explaining its decision to confer class action status on the case, the court referenced a concern that "the Navy has adopted and implemented policies and practices that effectively silence non-liturgical Christian chaplains."
Attorneys for The Rutherford Institute argue that the Navy's discriminatory policies and practices toward evangelical chaplains violated the Establishment and Free Exercise Clauses of the First Amendment and the Equal Protection Clause of the Fifth Amendment. Among the discriminatory policies and practices cited by Institute attorneys are the Navy's practice of identifying a candidate's denomination to the chaplain promotion board; the practice of forcing non-liturgical churches off base while Catholic and liturgical Protestants enjoy spacious on-post facilities; senior Catholic and liturgical Protestant chaplains routinely giving non-liturgical chaplains lower performance ratings than similarly situated Catholic and liturgical Protestant chaplains; and the Navy's practice of holding only "General Protestant" religious services, instead of accommodating particular denominations of seamen. The Rutherford Institute is currently participating in a similar case involving Navy chaplain Philip Veitch, who was removed from his pulpit and forced to resign his commission as a lieutenant commander because he refused to stop preaching evangelical Christian doctrine that his superiors considered "too divisive." Through these lawsuits, Institute attorneys seek to force the Navy to bring the Chaplain Corps and its senior officials in line with the Navy's own religious demographics.
"The Navy's use of religious quotas in hiring and promotion and its institutionalized hostility toward chaplains who desire only to assist their Christian congregations' faith are not only anathema to the First Amendment, they seriously call into question the Navy's alleged commitment to 'pluralism' among faiths in the ranks and the free exercise of religion by all chaplains and seamen," stated John W. Whitehead, president of The Rutherford Institute.
The Rutherford Institute is an international, nonprofit civil liberties organization committed to defending constitutional and human rights.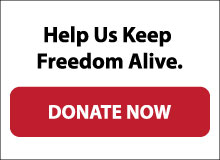 ---
Press Contact
Nisha N. Mohammed
Ph: (434) 978-3888, ext. 604; Pager: 800-946-4646, Pin #: 1478257
Email:
Nisha N. Mohammed