On The Front Lines
High School Puppeteer, Volunteer at Indian Reservation, Prevented from Receiving School Credit Due to Puppet Show's Religious Content
The Rutherford Institute Persuades Maryland School District to Change Discriminatory Volunteer Work Policy and Recognize Student Service Work of a Religious Nature

MONTGOMERY COUNTY, Md.--
The Rutherford Institute has persuaded the Montgomery County Board of Education to change its discriminatory policy of denying service credits to high school students who choose to participate in volunteer work of a religious nature. As part of a mandatory service-learning program, students at Walter Johnson High School in Rockville, Md., are required to perform 60 hours of volunteer work before graduation. Joshua Gale, a high school sophomore, chose to work on a Cheyenne River Sioux Indian reservation in South Dakota. Focusing his efforts on children at the reservation, Joshua produced and performed in a puppet show. However, because the puppet show delivered a religious message, school officials refused to grant Joshua the full 36 credit hours he had requested for the project.
After Joshua's mother contacted The Rutherford Institute, Institute legal staff wrote to the Montgomery Public School student service learning specialist and requested that the school district accept all 36 of Joshua's credit hours. Explaining that the religious content of the puppet show had been determined by Joshua, not the school, Institute legal staff asserted that it did not violate the Establishment Clause of the First Amendment. Rutherford Institute legal staff also pointed out that the religious message in Joshua's puppet show was protected speech. Although the school district relented and awarded Joshua credits for his project, it did not alter its discriminatory policy. After eight months of correspondence with school board members, The Rutherford Institute recently received confirmation from the school board's attorney that the school district has changed its discriminatory policy and will allow students to earn credits in the service-learning program if they choose to participate in work of a religious nature.
"If a public school is going to mandate student participation in a voluntary service program, then the school can't forbid faith-based volunteer work," said John W. Whitehead, president of The Rutherford Institute. "Government cannot define community service in a way that renders service based on spiritual values off limits."
The Rutherford Institute is an international, nonprofit civil liberties organization committed to defending constitutional and human rights.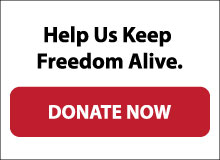 ---
Press Contact
Nisha N. Mohammed
Ph: (434) 978-3888, ext. 604; Pager: 800-946-4646, Pin #: 1478257
Email:
Nisha N. Mohammed