On The Front Lines
The Rutherford Institute Celebrates 20 Years in the Fight for Freedom
CHARLOTTESVILLE, Va.-- On June 29, 1982, John Whitehead started a legal organization to defend people who were persecuted or oppressed for their beliefs without charging them for such services. Twenty years later, The Rutherford Institute has emerged as one of the nation's leading advocates of religious freedom and civil liberties. Named after Samuel Rutherford, a seventeenth-century divine who argued that no one is above the law, the Institute exists to ensure that people are treated fairly in the courts and are able to express themselves without fear of persecution.
The Institute's multifaceted approach of integrating litigation and educational opportunities has made it a formidable leader in defending and teaching about the Constitution. The defense of civil liberties and human rights through litigation and education are at the heart of the Institute's purpose. Last year alone, over 10,000 requests for legal assistance were handled by Institute staff. And with a national network of volunteer attorneys, trained and educated on pertinent case law and provided with sample pleadings, legal research, and support and funding for court expenses, the Institute is equipped to handle hundreds of cases at a time. Among its many educational outreach programs, three in particular serve to further freedom: First Liberties, to educate the public about their constitutional freedoms through a quarterly public service radio campaign; Pocket Constitution Program, to put a pocket-sized version of the U.S. Constitution in the hands of every American; and Summer Legal Internship Program, to educate aspiring lawyers about constitutional law.
In celebration of its 20th anniversary, The Rutherford Institute has relaunched its website www.rutherford.org. The revamped site is packed with information on Institute cases, commentaries, news updates and legal resources.
"Since I started this ministry in 1982 in the basement of my home, we have been fighting on the front lines to protect our constitutional freedoms and human rights. When founding The Rutherford Institute, my goal was to create an organization that would defend people who were persecuted or oppressed for their beliefs without charging them for such services," said John W. Whitehead, founder and president of The Rutherford Institute. "From a one-man operation to tens of thousands of concerned citizens, supporters, attorneys and clients, we have grown into a fighting force for freedom. The Rutherford Institute exists to ensure that when people's rights are violated, they are treated fairly in the courts and are free to express their beliefs without fear. And I am proud to say that The Rutherford Institute continues to provide oppressed and persecuted people--no matter their age, occupation or religion--a place to turn when their rights are threatened or abused. This summer as we celebrate many worthy achievements over the years we are far from ready to rest on our laurels. There is much to do and much worth fighting for."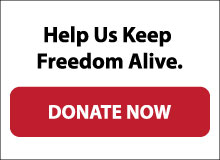 ---
Press Contact
Nisha N. Mohammed
Ph: (434) 978-3888, ext. 604; Pager: 800-946-4646, Pin #: 1478257
Email:
Nisha N. Mohammed