On The Front Lines
John W. Whitehead, President of The Rutherford Institute, To Address Gathering of the Albemarle County Rotary Club
CHARLOTTESVILLE, Va.
--John W. Whitehead, president of The Rutherford Institute, a nonprofit civil liberties and human rights organization located in Charlottesville, Va., will speak to a gathering of the Albemarle County Rotary Club on Thursday, May 22, 2002. The event will take place at 1:00 p.m., EST, in the Hearth Arbor Rooms of the Boar's Head Inn.
An attorney and author who has written, debated and practiced widely in the area of constitutional law and human rights, Whitehead is widely recognized as one of the nation's most vocal and involved civil liberties attorneys. His approach to civil liberties issues has earned him numerous accolades and accomplishments, including the Hungarian Medal of Freedom. Whitehead's concern for the persecuted and oppressed led him, in 1982, to establish The Rutherford Institute. Whitehead is also editor of Gadfly Online. Gadfly was hailed by Utne Reader as "second only to the Library of Congress as a warehouse of American pop culture - and number one when it comes to fun reading." An avid film buff and student of film history and technique, Whitehead has written extensively on film. Whitehead also directed and wrote a documentary video series on 20th century culture, which received two Silver World Medals at the New York Film and Video Festival. The book, upon which the series was based, Grasping for the Wind, was published last year by Zondervan/Harper Collins Publishing.
Whitehead has written for the Los Angeles Times, New York Times, Washington Post, Washington Times and USA Today. He has also been a frequent commentator on a variety of issues in the national media. Born in 1946 in Tennessee, Whitehead earned a Bachelor of Arts degree from the University of Arkansas and a Juris Doctorate degree from the University of Arkansas School of Law. He served as an officer in the United States Army from 1969 to 1971. Whitehead and his wife Carol, who have five children, live in Virginia.
The Rutherford Institute is an international, nonprofit civil liberties organization committed to defending constitutional and human rights.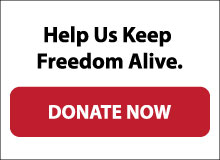 ---
Press Contact
Nisha N. Mohammed
Ph: (434) 978-3888, ext. 604; Pager: 800-946-4646, Pin #: 1478257
Email:
Nisha N. Mohammed