Police State
The Rutherford Institute is leading the charge in warning against a rapidly growing—and increasingly out-of-control—American police state.
With over an estimated 80,000 SWAT raids per year, an increase in fatal (and often-times unnecessary) police shootings, and a routine dependence on militarized weapons and vehicles, local police departments are beginning to act like and resemble a standing army.
The American police force, however, is not a branch of the military, nor is it a private security force for the reigning political faction. It is an aggregation of the countless local units that exist for a sole purpose: to serve and protect the citizens of each and every American community. In recent years, however, there has been an increasing militarization of the police. It has not occurred suddenly, in a single precinct; it cannot be traced back to a single leader or event—rather, the pattern is so subtle that most American citizens are hardly even aware of it. Little by little, police authority has expanded, one weapon after another has been added to the police arsenal, and one exception after another has been made to the standards that have historically restrained police authority. When analyzed as a whole, this trend toward militarization is undeniable, and it is one that could have serious implications for American liberty if left unchecked.
Our Recent Work in Police State
Commentary on Police State Issues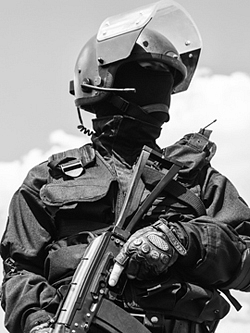 ---
Police State Resources