Surveillance
---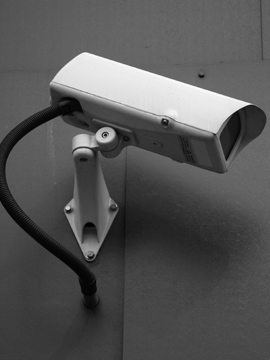 "There was of course no way of knowing whether you were being watched at any given moment...You had to live—did live, from habit that became instinct—in the assumption that every sound you made was overheard." — George Orwell, 1984.
On any given day, the average American going about his daily business will be monitored, surveilled, spied on and tracked in more than 20 different ways, by both government and corporate eyes and ears.
With all branches of the government stridently working to maintain its acquired powers, and the private sector marching in lockstep, The Rutherford Institute is sounding the alarm in an effort to warn the American people about the ubiquitous surveillance state.
Whether you're walking through a store, driving your car, checking email, or talking to friends and family on the phone, you can be sure that some government agency, whether the NSA or some other entity, is listening in and tracking your behavior. This doesn't even begin to touch on the corporate trackers that monitor your purchases, web browsing, Facebook posts and other activities taking place in the cyber sphere.
"The electronic concentration camp, as I have dubbed the surveillance state, is perhaps the most insidious of the police state's many tentacles," says John W. Whitehead, president of The Rutherford Institue. "It impacts almost every aspect of our lives and making it that much easier for the government to encroach on our most vital freedoms, ranging from free speech, assembly and the press to due process, privacy, and property, by eavesdropping on our communications, tracking our movements and spying on our activities."
Key Cases in Surveillance:
Our Recent Work in Surveillance
In Digital Privacy Case, Rutherford Institute Urges Supreme Court to Strictly Enforce Wiretapping Law and Safeguard Core Privacy Protections
Rutherford Institute Asks U.S. Supreme Court to Protect Americans' Cell Phone Records Against Warrantless Government Surveillance
The Rutherford Institute, Wikipedia, ACLU Et Al. Rebut the Obama Administration's Claim That No Harm Is Caused by the NSA's Unprecedented Mass Surveillance
The Rutherford Institute, Wikipedia, ACLU Et Al. Rebut the Obama Administration's Claim That No Harm Is Caused by the NSA's Unprecedented Mass Surveillance
Rutherford Institute Denounces Stealth DOJ Move to Expand Police Powers & Remotely Hack Into Phones, Computers in Absence of Criminal Activity
The Rutherford Institute, Wikipedia, ACLU Et Al. Ask Fourth Circuit Court of Appeals to Reinstate Lawsuit Over the NSA's Mass Surveillance Program
The Rutherford Institute, Wikipedia, ACLU Et Al. Appeal to 4th Circuit Seeking Reinstatement of Lawsuit Over the NSA's Mass Surveillance Program
Upholding System of Secret Surveillance, Federal Court Dismisses Lawsuit Filed by The Rutherford Institute, Wikipedia, ACLU Et Al. Over the NSA's Spying Program
Commentary on Surveillance Issues
Big Brother Is Still Watching You: Don't Fall for the NSA's Latest Ploy
The Greatest Threat to Our Freedoms: A Government of Scoundrels, Spies, Thieves, Ruffians, Rapists and Killers
Saint or Sinner, Government Eyes Are Watching Every Move You Make
America's Gestapo: The FBI's Reign of Terror
Life in the Electronic Concentration Camp: The Surveillance State Is Alive and Well
Fear of the Walking Dead: The American Police State Takes Aim
Jade Helm, Terrorist Attacks, Surveillance and Other Fairy Tales for a Gullible Nation
Prisons Without Walls: We're All Inmates in the American Police State
The NSA's Technotyranny: One Nation Under Surveillance
The Wolf Is Guarding the Hen House: The Government's War on Cyberterrorism